Enjoy Greater Interactivity, Reliability and Ease
Inspire students and support your faculty and administrators with industry-leading products that are cost-effective, reliable and versatile, including the #1 education projectors in the world.
Imaging Products for Teachers & Administrators
Epson technology meets the ever-changing needs of classrooms—whether that's extra-powerful projectors for large venues, easy-to-use budget-friendly options, or projectors that can display books and 3D images, or turn a wall into an interactive display.
Administration & Graphics Department Solutions
From printers to scanners, Epson offers cost-effective solutions that deliver speed and quality to help your school save money. All while enjoying everything from instant, professional-quality signage, to cloud-compatible scanning and high-volume printing that's truly reliable.
Pensacola Christian College: Epson Pro G Series Projectors Case Study
Watch how Epson Pro G Series projectors created an amazing electronic floor show for the athletic programs at Pensacola Christian College.
58% of Students Can't Read Content on a 70" Flat Panel
Better understand how to choose the right display size for your classroom and ensure every student has access to what is being shared.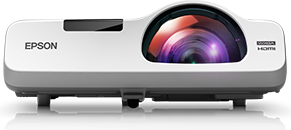 Colour Brightness
Epson projectors have up to 3x brighter colours* than leading 1-chip digital light projector (DLP) technology projectors. 3LCD technology uses 3 chips to deliver vibrant, true-to-life and consistent images, unlike 1-chip DLP projectors that use a color wheel—so there is no trade-off between white and colour brightness.
*Compared to leading 1-chip DLP business, education and home entertainment projectors. For home entertainment, Epson 720p projectors are 3x Brighter; Epson 1080p projectors are consistently 2x and up to 3x Brighter. Based on NPD data, July 2011 through June 2012. Color brightness (color light output) measured in accordance with IDMS 15.4. Color brightness will vary depending on usage conditions.