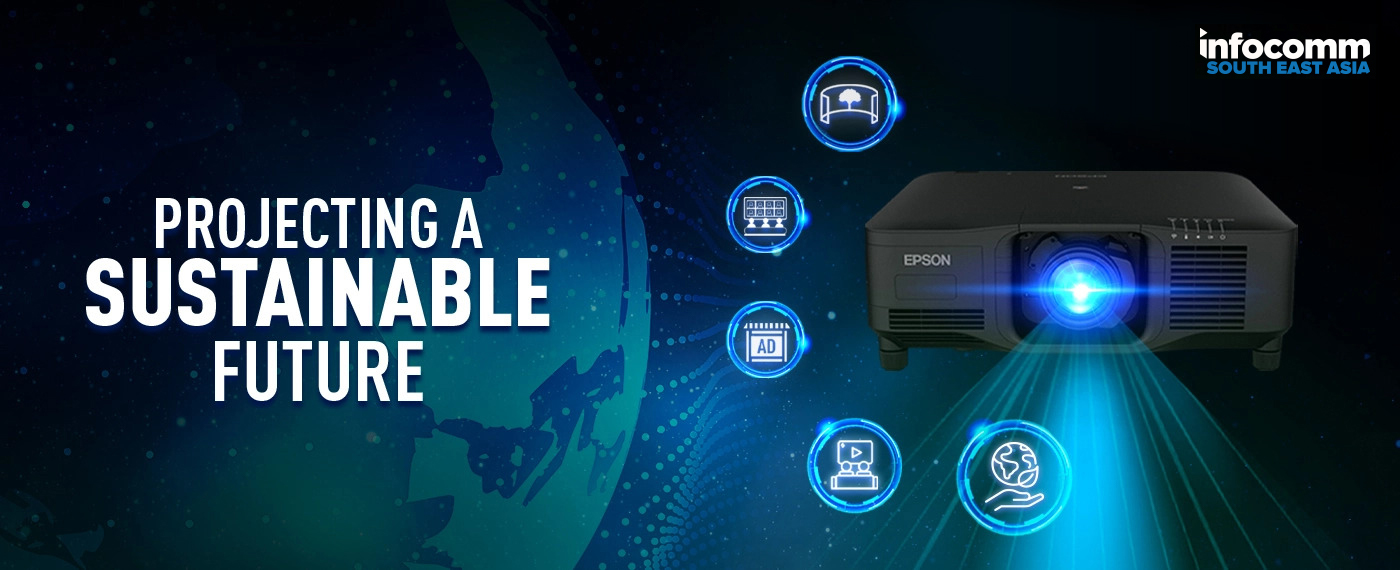 Thank you for visiting our booth at
InfoComm Southeast Asia 2022.
We are truly honoured to be given the chance to showcase our latest projection technologies and to connect with you.
If you did not managed to visit us, fret not, here is a breakdown of what was showcased at Epson Southeast Asia booth.

Projecting a sustainable message
At zone 1, we displayed the capabilities of the newest addition to our high brightness line-up: our EB-PU2200 series. This series boasts a brightness of 13,000lm up to 20,000lm. Coupled with a native resolution of WUXGA, be wowed by the vibrant colours and stunning images that this projector can deliver. The EB-PU2220B in this new series is the world's smallest and lightest 3LCD laser projector for 20,000lm category.*It is 64% smaller compared to the predecessor model, EB-L20000U. Its design is compact, giving end users the flexibility of installation. It can do 360-degree rotation, at any direction, without compromising on image brightness, to suit the ever-changing needs of the environment.
Disclaimers:
*As of October 2022 availability in the market. Only applicable to EB-PU2220B projector. 20,000lm in accordance with ISO 21118. Main unit without lens.
Projecting a sustainable workplace
At zone 2, we demonstrate our hybrid work collaboration space where we blur the lines between being virtual and onsite using our projectors alongside the Front row Layout by Microsoft Teams Room. By using our ultra-short throw lens alongside our 8,500-lumen laser projector, our projector can be positioned near the screen to create a large screen experience in a 21 by 9 aspect ratio – which demonstrated that despite the short distance, we can achieve a big projection. What resulted is an immersive 130 inches display, and having such seamless projection in a big, ultra-wide format would be useful in meeting rooms, especially when space is a concern.
Projecting a sustainable retail space
With the use of Epson projectors, retail stores can create in-store displays using projection instead of physical products. Epson's 3LCD Technology can display images with high brightness and superior colour reproduction onto plain 3D objects like this Kimono, allowing stores to display nearly life-like virtual products. Retail stores can use projection to virtually expand their limited space, decorate the shopping floor and even provide information on many more designs and products. Furthermore, stores can freely re-model according to the season, minimising the number of product samples and decorations for in-store displays resulting in far less waste. Additionally, Epson laser projectors are more energy efficient, thus helping users conserve energy.
Projecting a sustainable home
Finally, sustainability can also be practiced at home. In this zone, we demonstrated how our home projectors can help you achieve this. Our projectors are also equipped with a sleep mode, where the power is automatically switched off after a period of inactivity. So, in case you fall asleep in front while watching a movie, at least your projector won't be needlessly consuming energy and depleting its lifespan. Did you also know that Epson's latest projectors are also significantly more energy-efficient than our earlier models, and can reduce power consumption by at least 20% on average? That's a lot of savings and energy maximised!