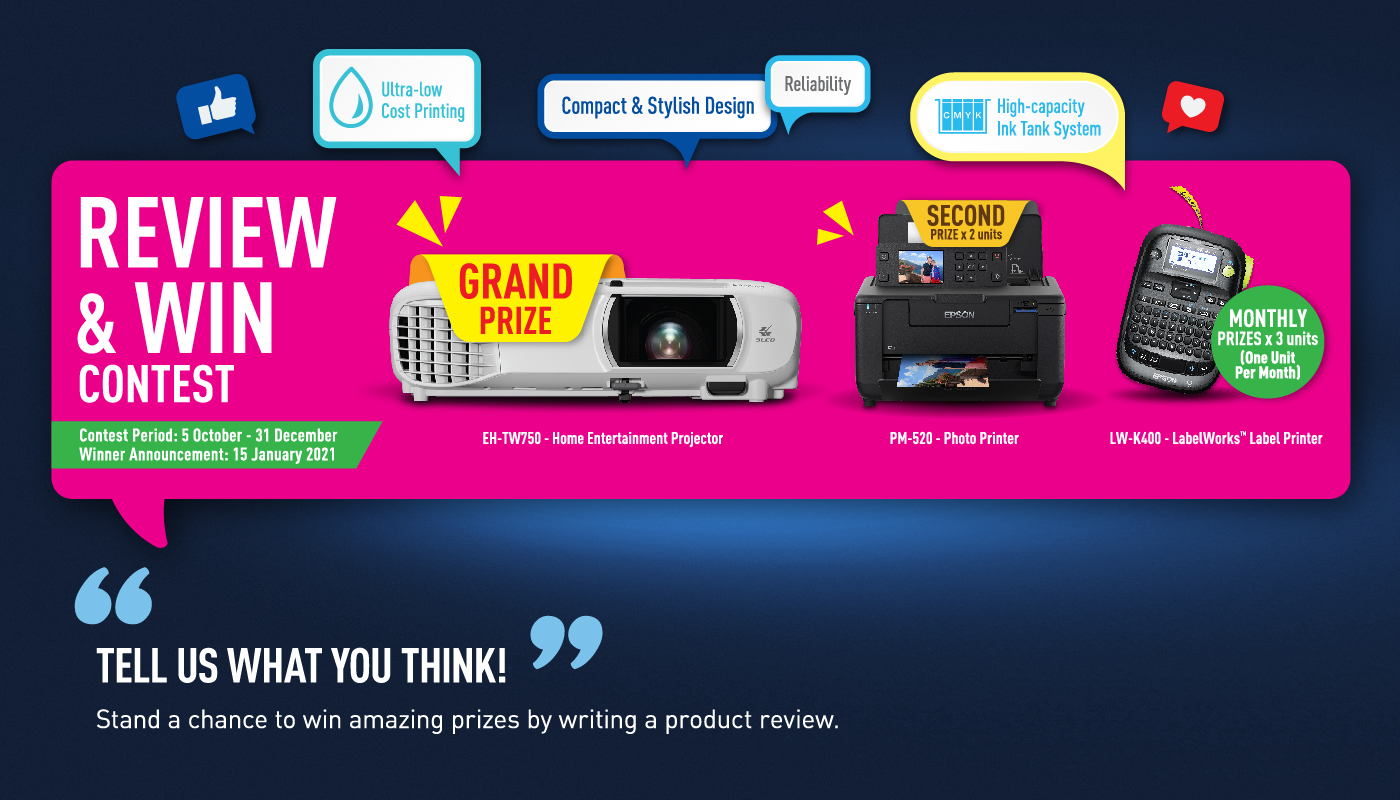 REVIEW & WIN CONTEST
Stand a chance to win amazing prizes by telling us your thoughts.
How to Participate:
Step 1: Purchase a participating Epson EcoTank printer model.*
Step 2: Log on to www.epsonrewards.my/reviewnwin
Step 3: Complete participation form and submit your product review.
Contest Period: 5 October – 31 December. Winner Announcement: 15 January 2021.
¬Terms & Conditions apply.
Submit Review Now
1. The contest period is open from 5 October to 31 December ("period") for the purchase of Epson EcoTank Models.
2. The Contest is open to all Malaysian citizens and permanent residents above the age of eighteen (18) and above as at the start of the Contest period. The Organiser shall reserve the right to request for evidence of identification documents.
3. The Contest is open to all customers who purchased selected participating Epson EcoTank printer models ("Products") from 1st October to 31st December 2020.
4. The participating models are Epson EcoTank L4160, L5190, L6170, L6190, L14150, M1100 & M1120.
5. To participate in the Contest, the Participants are required to write and submit their review on the Products they have purchased during the period 5 October to 31 December 2020.Subject to terms and conditions.
6. Each Participant may only submit one (1) entry review per product and are not allowed to enter the Epson EcoTank via multiple email address and/or aliases. All additional entries are considered void.
7. Each Participant is required to enclose the Invoice and Serial Printer Number ("Proof of Purchase") as a proof of purchase in their review.
8. Each quality product review is eligible for an entry to participate and win in the Contest.
9. The review will be judged and evaluated based on usefulness of review (length & images) to help with quality control.
10. If the winner's email account is found to be suspicious or suspected of having created multiple email accounts for the purpose of entering the Contest, such winners shall be disqualified, and the Organiser has the rights to forfeit the price of the winner.
11. The winners will have to claim their prizes within 48 hours of the announcement in Organiser's Facebook and/or Instagram page.
12. All unclaimed prizes after the deadline stipulated by the Organiser will be forfeited.
13. The Organiser does not accept any alteration of Proof of Purchase in any form. Purchase Order and/or Delivery Note will not be accepted as Proof of Purchase.
14. The Organiser retains the right to substitute any prize with another prize of similar value in the event the original prize offered is not available.
To read the full contest terms & conditions, please click here.